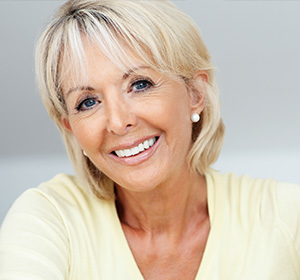 Even if you've lost a tooth, you don't have to miss it forever. A dental implant is a type of artificial tooth that fuses with your bone just like a regular tooth and keeps your jaw healthy and strong.
Dental implant's function and feel just like regular teeth. You will be able to eat and speak normally again, and the implant will fill that gap in your smile. If you are missing teeth, implant dentistry is the best option for a full tooth replacement.
Dental implants are durable and long lasting. After the implants have been placed in your jaw, Dr. Borio can restore the dental prosthetic on top to restore chewing function to your new tooth.
THE DENTAL IMPLANT PROCESS
Your artificial tooth begins with two titanium rods that make up the implant. At our practice we will refer you to an outside specialist who will place those rods directly into your gumline where they will function like a tooth root. Over the next couple months, the implant area will heal, and the titanium alloy will fuse with your jaw, giving you more bone strength and the support of a regular tooth. Once the area is healed completely, Dr. Borio can attach the abutment, and then secure a beautiful porcelain crown.
The implant combined with the crown serve as a full and complete artificial tooth restoration that looks and feels as natural as your old one.
Sometimes implants can become damaged or need fixed. With Dr. Borio you won't have to worry because he can restore dental implants. With Dr. Borio you can always feel confident that your smile is secure and protected. Don't let a lost tooth keep you from enjoying the things you love. Dental implants will let you smile again.
CALL US TODAY TO LEARN MORE
If you have any questions about dental implants or want to make a dentist appointment, contact our office today.