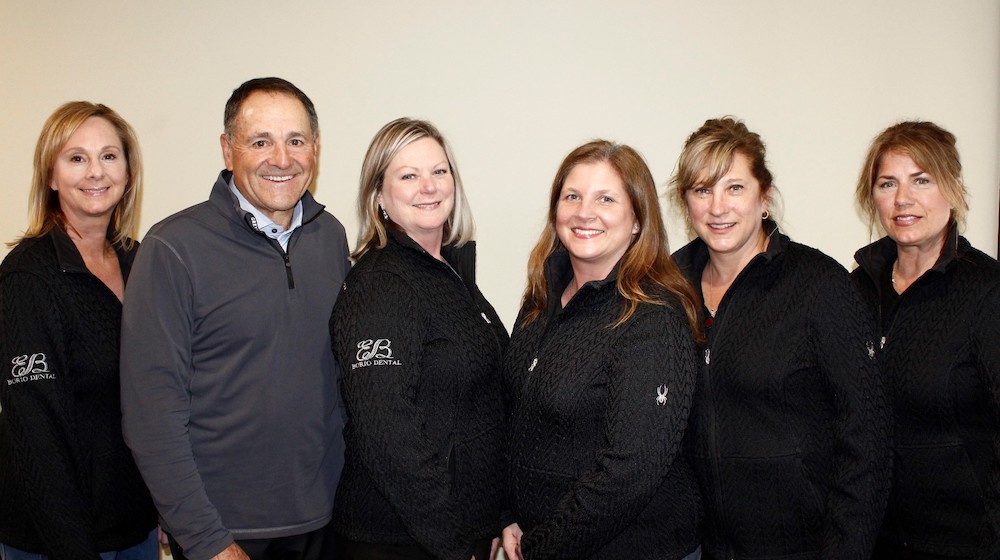 ---
AMY BOMMARITO
Amy began her dental career in Florida in 1990. In 2001, she returned to Michigan to be closer to her family and joined our team then. Amy is Dr. Borio's primary chairside assistant and is knowledgeable in all areas of the dental office. Amy's versatility in the office and her desire to keep improving makes her a valuable part of the Borio team. Amy enjoys the challenges of the ever-changing world of dentistry and helping our patients feel as comfortable and reassured as possible.
When not working, Amy enjoys spending time cooking, gardening, and remodeling her home with her husband, Paul, and son, Pauly.
---
SALLIE MILLER
Sallie's first introduction to the Borio family was back in the mid nineties working in the Garden Center business for Dr. Borio's father. In 2002 she was intrigued by the idea of working in dentistry and joined our team then. She began her career with Dr. Borio as a clinical assistant and later took an interest in the administrative responsibilities in the practice. Today she maintains responsibilities in both areas of the practice. Sallie possesses an unwavering passion for caring and helping others and the many hats she wears in the office provides her numerous opportunities to display her talents in these areas. While Sallie has many different responsibilities, her dedication to caring for our patients is often demonstrated by utilizing the expertise she has in helping our patients understand the particulars of their dental insurance plans.
Sallie enjoys life with her husband, Joel, her two adult sons, Matthew and Bradley, and grandchildren, Marissa, Connor, and Madelynn. She enjoys many camping trips with her family and two Labrador retrievers, Chance and Jager.
---
Trishia Milz
Trish is the newest member of the team joining us in at the end of 2013. She has been working at the front desk in dentistry for over 17 years where she takes great pleasure in helping patients feel comfortable with the process of planning, acquiring, and maintaining a beautiful smile.
Establishing and maintaining relationships with patients and ensuring they completely understand the details of the time spent in our office is what Trish is passionate about. She is dedicated to making the patient feel informed and knowledgeable about all aspects of the process, from the 1st phone call inquiring about our services, to understanding all specifics of the appointment.
Outside of the dental office, Trish enjoys spending time with her children, William and Rebekah. Her favorite activities include camping, boating, and cheering on the Detroit Tigers.
---
Catherine Marra
Catherine (Cat) graduated from The University of Detroit Mercy with her Bachelor of Science degree in Dental Hygiene in 2000. Cat has been part of the staff here at Edward A. Borio, D.D.S., P.C. since 2002 and proud to be part of a team where patient health and continued education are a top priority.
Cat enjoys spending time with her husband, 2 boys, and dog Roxy.
---
Erin Wolff
Erin has loved dentistry since she was a little girl. She graduated from Ferris State University in 1995 in dental hygiene. Erin's passion for dentistry radiates to each of her patients. Erin is grateful to be a part of the Borio team and shares our love for dentistry.
Erin enjoys spending time with her family including her dog Brooklyn, and her cat Bena. When not working Erin enjoys baking and gardening.